CERB Hauled a 30-ton transformer
CERB's team successfully carried out the haulage of a 30 t transformer from traction substation Krastets to CERB headquarters. In order to load the transformer in the substation, all freight and passenger trains at Krastets railway station had to be halted and the overhead power lines had to be disconnected. The freight was carried out by means of an MAN Uaai 8-axle low-loading wagon (Schnabel car), property of CERB. The car is unique for the Balkans. It consists of a freight platform, carried by two gondolas, each installed on two railway carts. Its maximum capacity is 96 tons.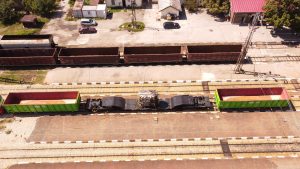 Project details
The Krastets substation owned by National Railway Infrastructure Company, services the area of Krastets railway station. This is a village in the northern part of the country, a part of Tryavna Municipality, Gabrovo Region. A starting point of the Kom-Emine route and one of the highest altitude railway stations in Bulgaria. It is 240 km away from Sofia.